Ucraft offers three main plans – Landing Page, Website, and eCommerce plans. Additionally, there are three pricing plans for eCommerce sites. Here's an overview of all Ucraft plans and pricing details:
Ucraft Landing Page
This plan allows you to create a single page for free. There aren't many changes you can make with the landing page plan. You can replace the dummy content and add your own, but making style changes is off limits. With this plan, you can use the SEO app, connect your domain, and invite team members to collaborate with you on your website-building projects. Your site is hosted on Google Cloud. Overall, the Ucraft Landing Page package is quite restrictive, since you can't add new elements, blocks, or pages.
The Website Plan
The Website plan gives you far more freedom than the Landing page plan. For starters, the Website plan allows you to create an unlimited number of pages. You also get access to Ucraft integrations and add-ons, as well as to the Drag-and-Drop editor, since the Website plan lets you you actually add and edit your site's content. Ucraft pricing for this plan is rather symbolic – from $8 per month.
The ECommerce Plan
This is the basic plan for online stores, and it comes with unlimited storage, SEO for products, and no fee on store transactions. You can have a maximum of 50 products, and the product size cannot be larger than 100MB. The real-time tracking feature is available with this plan too, and you can choose between more than 70 shipping and payment options. Pricing: from $16 per month.
The Pro Plan
The Pro plan includes all the things in the eCommerce plan, but there are some differences. Instead of 50 products, with the Pro plan, your online store can feature up to 1000 products, and the maximum product size is significantly larger, i.e., 1GB. Apart from that, you can also add coupons, discounts, and wishlists to your store.
Other features that come with this plan include the Store Management App, editing invoices, reverse-charging VAT, and tax exemption enablement. Pricing: from $39 per month. As you'll notice in Ucraft.com review comments, many people opt for this plan since it gives them the whole package at a reasonable price.
The Unlimited Plan
This plan is a Pro plan with the option of selling on eBay in the US. Pricing: from $76 per month.
Domain Name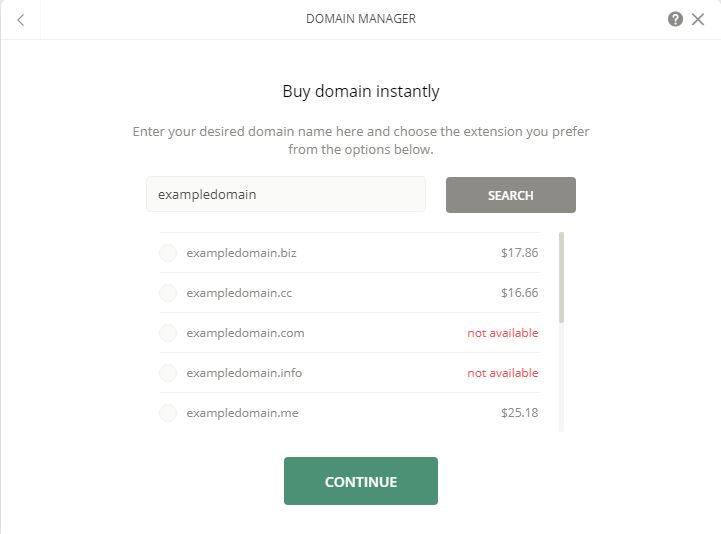 Your site will get a Ucraft.com subdomain name extension by default. If you want to change the default domain name, you can do so by using the Domain App. The app will allow you to connect your existing domain name for free, which is something even the best website builders are not likely to offer. You can also purchase a new domain and choose the desired extension. Domain prices vary based on the extension you choose. The cheapest domain extension is .in.net ($11), whereas the priciest is the .tv domain extension ($38).
Hidden Costs, Billing Practices, and Payment Options
Ucraft doesn't have any hidden costs. If your current plan doesn't support a specific feature, Ucraft will automatically prompt you to upgrade your plan. However, before you choose a plan, you can see a detailed overview of all features included in each plan.
As far as billing practices go, the Ucraft website builder offers monthly and yearly subscriptions. With an annual subscription, you can make some savings. For example, the website plan with a monthly subscription is $8 per month, but if you opt for a yearly subscription, you'll pay $6 per month.
The more expensive the plan is, the bigger the savings are. With a yearly subscription on the Unlimited plan, you can save nearly $200 on an annual basis compared to a monthly subscription. Ultimately, Ucraft accepts PayPal, as well as Visa, MasterCard, and Discover credit cards.