Blog Creation
If you build your website with Jimdo, you can add a separate blog section to it. One of the great blog features here is the URL-ending customisation, which allows you to include the keywords in your blog posts' URLs. In this Jimdo review, 2018, we are a big fan of this feature, since it will improve the SEO status of both your website and your blog.
Also, you can use the Disqus plug-in to improve the overall discussion experience in the comment section. For instance, this option enables you to post threaded responses to users' comments and take part in conversations.
Another great advantage of the Jimdo blog is the option to use the same tags in several posts. That way, you'll be able to easily navigate between posts marked with those tags. What's more, it's possible to make all your posts automatically shareable and comment-friendly. The title and date for each post published on your blog can easily be edited in the Posts section.
Also, when you add a custom image and summary to your blog post, they will be shown on your blog page. Closely related to that, the blog page on Jimdo will display all the blog pieces you publish. Each of them will be presented with the preview image you've chosen and a small excerpt.
SSL
It's important to stress in this Jimdo review that the team behind this builder pays a lot of attention to security. In line with that, you can rest assured that your website will be safe and sound in the online environment thanks to the HTTPS encryption. With this special security add-on, you don't have to worry about the pathways your data will be travelling through.
Integrations and Effectiveness
Website owners need to use its email system in a fast and simple way. Your Jimdo website can easily be integrated with your G Suite tools and account so that you can use the tools from both platforms to improve your website features.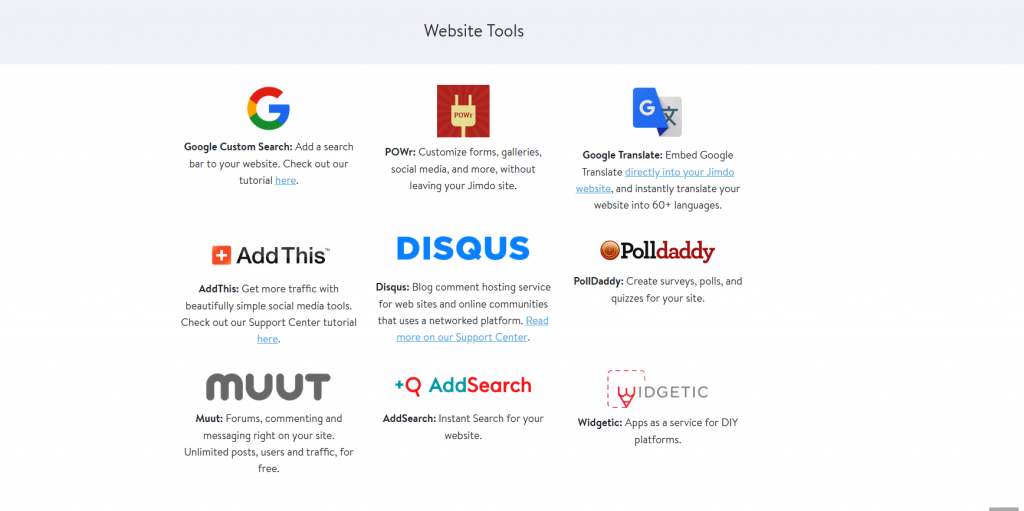 Simple, user-friendly navigation is also important for new websites. Having looked at several Jimdo website examples, we concluded that most of them offer exactly that: smooth and efficient navigation. This might be the case due to the site plan option provided by this builder. This option allows you to plan your site step by step and try different navigation features. This is a bit of a slower lane, but the end goal will be more appropriate for your users – a fact you'll see verified in additional Jimdo reviews.
Form Builder
In order to get information about and from your visitors, you can easily include a form field on your website. Just go to the Elements Menu and you'll see the Form icon. You can add different features to this section, such as your own email address, the confirmation message, or the CAPTCHA field. It's possible to change the layout of the form, as well.
When we were reading some older Jimdo reviews, to learn about the builder's history, the Live Chat option was available through a third-party add-on. Today, there's an original Jimdo Live Chat app that's easily integrated with your website.
E-Commerce Options
In this day and age, Jimdo is also a trendsetter with their ecommerce options. You can both build a dedicated ecommerce website or add a separate e-store section to your website builder. The products you add to your store can be placed in different categories. Also, you can add the description, image and price, as well as tags to each of your products. In a nutshell, Jimdo provides a wide range of ecommerce options.