Blog
The blog option deserves to be featured in this Enjin review, 2018. To start your blog, just add a news module to the layout, but be aware that custom URLs aren't available. After you add a module, open the content editor and you're ready to add new content!
SSL
Enjin comes with SSL encryption. For a beginner reading this Enjin website builder review, this is a valuable feature for a small business owner or a niche gamer site. Most other web creators don't feature SSL encryption with their free plans. The value of the SSL comes up when purchasing or trading items or other in-game commodities; it helps protect your users from hacking and other intrusions on their privacy.
As for the technical side of things, the SSL certificates come without charge. They last for a year, and they're renewed in the last 30 days before expiration. During the renewal process, you won't feel any glitches or rundowns on your website.
Email
Well, nothing is perfect, and neither is Enjin. It doesn't come with webmail or email options. As far as this Enjin review 2018 goes, there won't be any email services. Their recommendation is to use Google Suite. Still, this isn't a big drawback. Most people use Google Suite anyway. More importantly, with the other perks Enjin provides, email isn't worth considering.
Form Builder
When it comes to forms, and applications in general, remember that Enjin is more suited for gamers. Forms come as a general form or an application form. General forms are more suited to asking questions and are open to a lot more customisation. I found while conducting this Enjin website builder review that you can still craft an awesome form to help users contact you.
Then, there are the application forms. For a fansite, these are unbelievable. Since my website allows me to track in-game progress (like World of Warcraft 'instances'), I could easily craft an application form for players to contact me and join my guild or clan. If you're into building a niche gaming website, this is a huge benefit.  
Menu
As far as the menus go, they are simple and sleekly designed. There aren't many menu variations, so you can either use a horizontal or vertical menu. The Enjin team claim that they're working on new menus. Like the email service, we can expect new menus in the following year.
Integrations
Integrations are possible and encouraged with Enjin. And integration through modules is the highlight of this Enjin website builder review. The module system truly stands out – there's a huge number of modules you can use to further customise the website. A small problem is that you're limited to 20 modules in the Free version and 50 modules in the Advanced version. With the Unlimited plan, you're free to use any number of modules.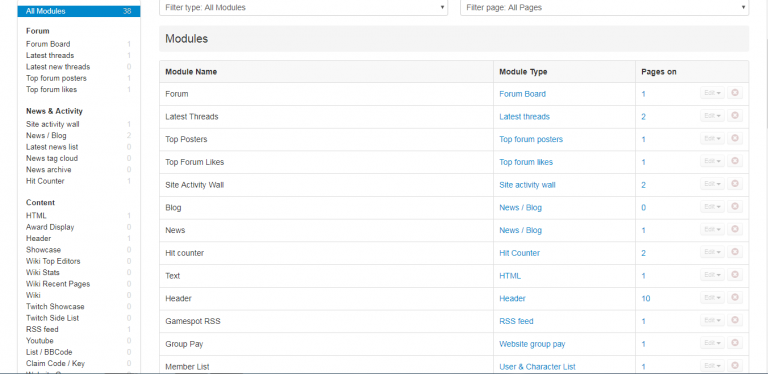 Also, if you are into gaming, using a Twitch integration is priceless. Twitch is like YouTube for gamers, it's a streaming service where gamers share their progress and gameplay. Sharing your gaming experience leads to donations, higher status in the gaming community and popularity. On top of that, there's also a Slack integration.
Ecommerce Functionality
This part of my Enjin review, 2018, favours gamers more than other users. Enjin features amazing eCommerce and shopping possibilities, especially for Minecraft. Based on the type of website you selected, Enjin helps you sell in-game items or ranks or other commodities related to the in-game mechanics.
Enjin has its own cryptocurrency or Enjin coin. You can use it to build your own tokens, set up a virtual goods store and create a more efficient payment system; decrease the risk of fraud and create special incentives for users to earn coins; create your unique gaming value and gaming system; and let your users earn and trade while they're on your server. That's something a rare few website builders can even hope to offer. Be on the frontier of change, and do it with Enjin guild websites!  
This performs best with Minecraft servers, since you get to operate a Minecraft-specific website. Then, arranging trades and even in-game auctions becomes possible. But with each type of website you select, you get awesome eCommerce and shopping options.
Selling Minecraft items, or World of Warcraft items will be much easier. Also, online games and games in general are truly a niche market. Only gamers really understand how helpful it is to have this trade organized directly from your website.
But most of all, with the Tags section on your admin dashboard, you can easily track hustlers and cheaters. Trustworthiness is the main quality of your shop, after all. Protect it at all costs.
Servers
Enjin comes with several server options. As mentioned numerous times throughout the review, there's the Enjin Minecraft server. But there are also voice servers or servers for team communications.
Compared to other services, using voice servers is great for clans and guilds. Servers are handy and awesome if you have a tight group of people communicating on a daily basis. Paying extra for voice servers truly pays off in the long run.
I really like that you get to use the Enjin Minecraft server even in the free version. But what I really love about this feature is the possibilities it opens for the user. You can either run a personal server for your friends or a professional server for a clan or a guild. Either way, I strongly recommend it.
Crypto Technology
Honestly, I was a bit sceptical when I saw that a web building platform uses crypto technology. But after a while I actually found it to be a great thing.
Eijin has it all from wallet to coin. The wallet store supports almost all types of coin. Like the website, it has various security mechanisms for you to stay safe while trading. This may help you to create the best clan website out there. With crypto's rising popularity, this gives a team or an owner a superb way of managing their website.
Also, if you trade in crypto, take the chance to make crypto trade available for your users. Allow them to pay for items or other game commodities via crypto. Since Enjin provides you with a wallet, trading becomes safe and simple.
Having an additional crypto wallet is a great thing, especially if you want to diversify your financial portfolio. However, that's a topic for a different day. In the end, having crypto technology lets you do business on a higher level.
Forums
Enjin forums are a community you should get to know. They are helpful and amazing. Most information regarding how to operate the web builder and other useful tips can be found there. Feel free to join the community, participate in communication and get the most of it.